What is JWU Gateway
The JWU Gateway is a Faculty & Staff portal that allows you to access information and data wherever it is!
JWU Gateway provides links to information found today in various locations. You can do things like access the University directory, submit an IT Service Desk ticket, enter a work order in SchoolDude, access University Communications resources, find links to departmental forms, policies or procedures, and access applications such as HRPulse or other web based resources.

What can I do?
Find links to applications and common resources

See IT systems statuses or upcoming scheduled outages

Get IT Support

Report an issue

Make a request

View your ticket status

View current systems statuses & planned maintenance

Visit departmental support pages

Contact information

Request Forms

Policies Procedures & FAQs

Announcements and important dates
Accessing JWU Gateway off Campus
You simply type https://gateway.jwu.edu into your device's web browser and then provide your network username and password to gain access.
The logon screen will look like this.
JWU Gateway on your Mobile Device
JWU Gateway is designed to be viewed in portrait mode on a mobile phone and in landscape mode on a tablet as depicted in the images below.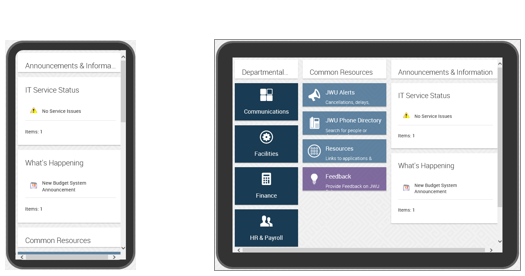 3. Tap the Share button on the menu bar (box with an arrow sticking out from it)
4. Tap on "Add to Home Screen"
5. On the next page you'll give the shortcut a name then tap Add
6. You now have JWU Gateway saved to your device's home screen
3. Click on the menu button (3 dots)
4. Select "Add to Home screen"
5. Change the Shortcut name to JWU Gateway and then Click ADD
6. Click "Add automatically" to place the shortcut to your device's home screen