JWU Gateway on your Mobile Device
JWU Gateway is designed to be viewed in portrait mode on a mobile phone and in landscape mode on a tablet as depicted in the images below.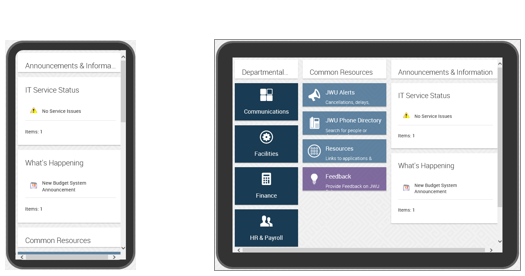 3. Tap the Share button on the menu bar (box with an arrow sticking out from it)
4. Tap on "Add to Home Screen"
5. On the next page you'll give the shortcut a name then tap Add
6. You now have JWU Gateway saved to your device's home screen
3. Click on the menu button (3 dots)
4. Select "Add to Home screen"
5. Change the Shortcut name to JWU Gateway and then Click ADD
6. Click "Add automatically" to place the shortcut to your device's home screen